The Biomedical Calibration and Research Center (BİYOKAM) was established on 01.02.2004 for the purpose of,
Increasing scientific cooperation between Gazi University Faculty of Medicine and other related departments,

Developing projects for clinical practice,

Providing calibration and training services to improve the quality of diagnosis and treatment services.

Our Center, which has been in practice since its establishment, has been continuing its services in its new 280 m2 campus within the Faculty of Medicine of Gazi University since February 2011 Currently, found within the Biomedical Calibration and Research Center there are,
6 Laboratories where calibration services are provided,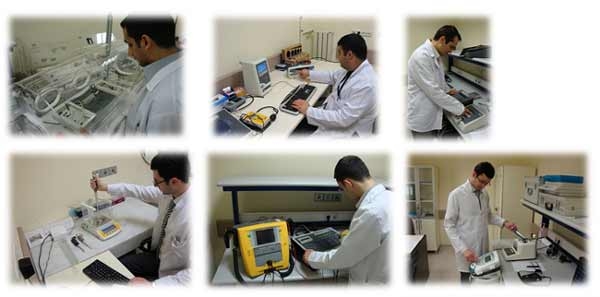 Our Center, which is constantly increasing its capacity, can now calibrate 22 different types of devices with its 30 calibrators and 5 technical personnel who are trained in calibration. Our center, which provides calibration services for existing devices in the hospital, aims to increase this number even more by expanding the range of calibration services with the new calibrators that will be purchased. Necessary studies have been completed in order to ensure international traceability and accreditation of the calibration laboratory, and it has come to the stage of applying to the Turkish Accreditation Agency (TÜRKAK) for accreditation.
Activity Areas of the Center
Providing an environment in which applications and research on biomedicine can be carried out by providing coordination and cooperation between the relevant branches of science (including the current science and departments in the medical faculty and the electrical and electronic engineering department biomedical science),

Establishing a calibration laboratory within Gazi University and providing calibration services,

Providing consultancy and training services on biomedical issues,

Designing biomedical devices and developing prototypes,

Provide training services on biomedical calibration,

Developing programs and projects,

Organizing in-service training programs and seminars,

Organizing national and international seminars, symposiums, congresses and conferences,

Engaging in journals, books and similar publication activities.